We Are Social's Monday Mashup #544
Facebook announces Bulletin
Facebook has finally got into the newsletter game, announcing a new service named Bulletin. Bulletin allows writers to publish free and paid newsletters that can be posted to the web, sent to subscribers' inboxes, and of course, shared across Facebook. What's more, at launch, Facebook will not be taking a cut from writers' earnings, giving them full ownership over their own work. Already signed up is Queer Eye's Tan France and journalist Malcolm Gladwell in the hopes that a seal of approval from stardom will encourage other independent writers to flock to the platform, rather than its main competitor, Substack.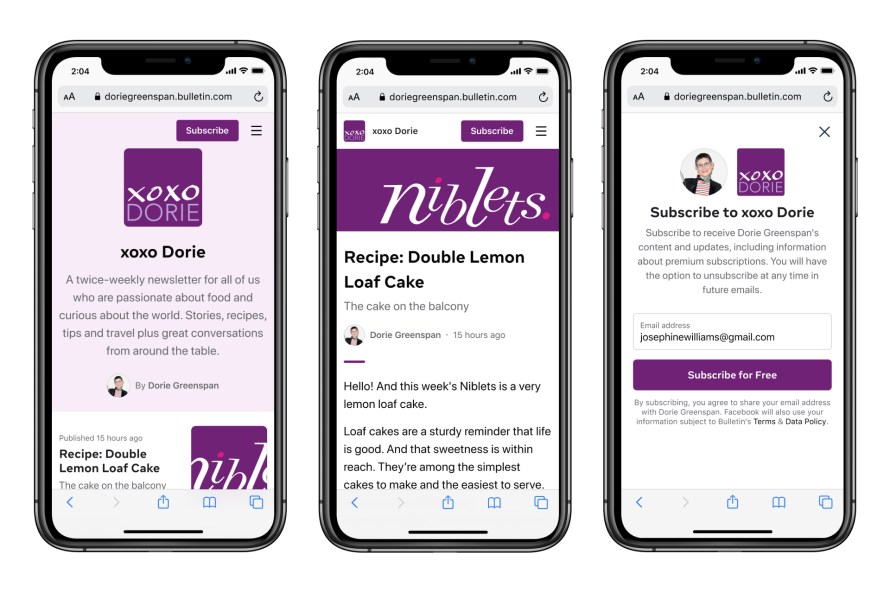 TikTok gets longer videos
Sometimes sixty seconds just isn't enough when it comes to creating quality TikTok content. That's why the platform is extending the one minute video limit to three minutes, a significant extension that's bound to change the way people use and engage with the app. This is to give creators more flexibility whilst filming and limit the need for multi-part posts. Known for its snappy, short videos, this is an interesting move from TikTok, which will begin rolling out over the next few weeks.
Twitch Watch Parties come to iOS and Android
Parties are coming to your devices, with Twitch Watch Parties now available on iOS and Android. The feature, which lets streamers host viewing parties for movies and TV shows on Amazon Prime, first launched on desktop back in September. Watch Parties have gained popularity thanks to the pandemic, but you have to have Amazon Prime in order to join in on the fun.
US businesses can proclaim themselves as 'Black-owned' on Instagram
Businesses are, well, big business on Instagram. Now the platform is making it easier for Black-owned businesses to become more easy to discover, by allowing these businesses to label themselves as 'Black-owned' on their profile. To get involved, you can go to 'Edit Profile' and then choose 'Business Diversity Info,' which will explain what it means to designate your business as Black-Owned. The hope is that the platform will create "more opportunities for economic empowerment directly within Black communities."
Snapchat adds new ad control options
Sick of seeing the same ad every two minutes? Snapchat is making it easier for users to control the ads that they see with a series of new tools and resources. Users can now opt out of seeing content that may be sensitive to them, such as alcohol or gambling. If an ad causes particular offence, the platform has added the ability for people to report them, with the Snapchat team deciding what action to take next. With these updates, users are sure to feel that Snapchat has their back when it comes to content that is causing distress or annoyance.
Pinterest bans weight loss ads
Washboard abs, peachy posteriors, luscious lips; us social media users are inundated with unrealistic imagery on a daily basis. With guidance from the National Eating Disorders Association, Pinterest is updating its ad policies to 'prohibit all ads with weight loss language and imagery.' This includes ads that promote appetite suppressants, weight loss surgeries and any imagery that idealises or denigrates certain body types. Speaking of the change, Pinterest explained how they're "empowering Pinners to plan for a summer and beyond without weight loss ads, so they can focus on what matters most." Preach it, Pinterest!
Telegram adds group video calling
It's been a long time coming, but Telegram has finally added group video calling to its array of features. Teased since April 2020, group video calling is now available on the platform's desktop and mobile apps. Unlike audio calls, which can feature an unlimited number of people, video chats are restricted to 30 participants. However, good news for those planning a Telegram party, this limit is likely to increase in the coming months.
Bitmoji adds adidas gear to their wardrobe
Does your Bitmoji need a bit of a makeover? Now may be the perfect time as adidas have curated 12 outfits for Snapchatters to choose from. Thanks to a new partnership, options for users include the Adicolour Classic Trefoil T-shirt, hoodies and Superstar J sneakers. Debuting on the app before hitting the shops, the refreshed Forum Low sneaker is certain to add some style to your Snapchat alter-ego. This is yet another example of fashion finding its feet in the digital world.
Instagram is testing ability for anyone to add links to Stories
'Swipe Up' has become second nature to Instagram fans, but it's only been those with over 10,000 followers or a verified profile who have been able to share links. Instagram is now testing the possibility to let anyone, insta-famous or not, to add links to their Stories, using stickers. Instead of a swipe, users will be able to tap the sticker link, making the call to action far more obvious.
Ones to watch
Instagram is testing a 'More Like This' feature and subscriber-only Stories. Twitter is considering letting users limit their tweets to 'trusted friends.'
Share your thoughts