Wednesday Wrap-Up #239
The Snickers Hunger/Anger algorithm

Finally, an algorithm we don't have to fear. Introducing the Snickers Hungerithm – a "simple" execution that turns emotions into science by monitoring the mood of the Internet and lowering Snickers prices accordingly. The angrier people get online, the cheaper Snickers get at your local 7-Eleven (apparently up to 82% off the normal retail price). Basically, bad mood = more food. The Hungerithm brings the famous Snickers' slogan, 'You're Not You When You're Hungry', to life straight in your newsfeed in a relatable, fan-friendly way. This makes me VERY happy….or should I say angry?! Looking forward to the next Donald Trump speech…




#AusPol becomes a top political hashtag around the world

With the federal elections fast approaching, @TwitterAU revealed a few interesting stats about its impact on the Twitterverse, including that #auspol is the third-most popular political tag in the world. Currently, 56% of Twitter users are not committed to who they will vote for on 2nd of July, and 59% of users admitted that reading about news or events on Twitter helps them formulate or reevaluate their political opinions. Additionally, 22% claimed that they have changed their voting intention in response to something they saw on Twitter. And we've all seen the riots Donald Trump has managed to rouse in 140 characters or less. Clearly, Twitter has replaced the podiums for best places to debate. Election season is getting heated and Tweeted!

Facebook Live lets you skip to the best bits




Just when you thought you couldn't possibly waste any more time on Facebook, they've swung in to save the day with an update to their Live feature. Why would you want to sit through 'the boring parts' of videos your friends (and kindly, brands) have taken the time to live stream to you? Luckily, you can now skip ahead to the most exciting parts with their handy engagement graph, which shows where videos received the most engagement from other viewers.

*Important announcement about stickers*

As climate change looms large on the environmental agenda and the Brexit debate rages across the U.K., I bring you some very important news about Snapchat. Now, not only can you add emojis to your pictures and videos, you can add THE WHOLE RANGE OF CHAT STICKERS, TOO! I do hope the papers received my memo about holding the front page.




First Snapchat and Millward Brown stats are in

Good news for stat geeks. Snapchat has reported its first brand awareness boost – an entire 16 points plus an 8% increase in tune-in intent for its 'Empire' sponsored lens campaign that ran earlier this year. The results are part of Snapchat's new partnership with Millward Brown, an agency designed to give marketers quantifiable evidence that Snapchat has measurable impact.

X-Men's Snapchat takeover enrages Dog Filter Enthusiasts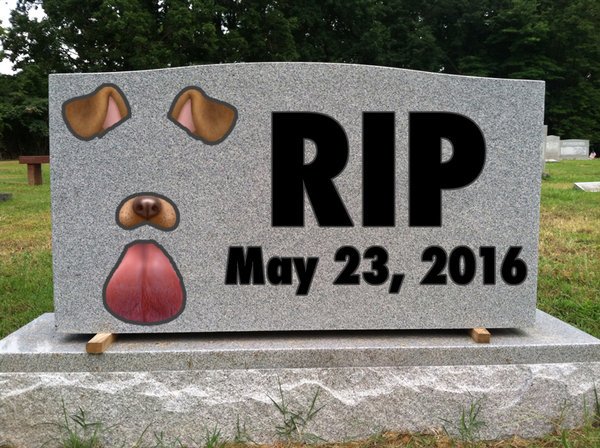 Twentieth Century Fox bought the first Snapchat Lens takeover, meaning that for one day, users could use only the X-Men filter on their snaps. Snapchatters could choose from Beast, Professor X, Quicksilver, Apocalypse, Storm, Nightcrawler, Cyclops, Mystique and Magneto. But the move did not go down without a Storm (geddit?). As per usual, protesters channelled their anger on another channel – Twitter – to complain about the fact that they were forced to face a day without their prized dog face filters. Isn't life ruff? Well rest easy, Fido fans. It's back now.

Alcohol brand trials three-part episodic video ads on Snapchat

American alcohol brand Mike's Hard Lemonade is trialling a three-part episodic video ad using the platform's Live Story service. The series follows a pair of friends who need to release their buddies from being trapped in real-life GIFs. The ad is age-gated to block out minors, and Mike's believes it is a perfect way to reach consumers 'where they're already sharing their backyard moments'.

McDonald's hosts Facebook Live hamburger art show

To celebrate National Hamburger Day, McDonald's hosted its first Facebook Live video – an art show called 'The Starving Artist' that was reminiscent of Bob Ross' 'The Joy of Painting'. The video was hosted by a sweater-and-bum-bag-wearing improv artist named Bevin. With zero media support, it reached 884,300 people in 40 minutes according to the brand. Paul Matson, McDonald's U.S. director of social engagement, said, "Doing something live is a little bit of a calculated risk. It's inherently interesting because you don't know what's going to happen, so we're trying to take advantage of that and see how that might work for a business that's 60 years old, such as ourselves".

Data-Driven Storytelling at #VividIdeas

Pardon the #humblebrag, but it wouldn't be the Internet without a little shameless self-promotion! Yesterday, with beautiful harbour views as a backdrop, we gathered for a morning of data-driven storytelling led by our very own Simon Kemp (We Are Social Singapore) and Chris Monk from @Decodedco. The sold-out session detailed the history, anatomy, neuroscience and "so-what" elements of storytelling. We also equipped attendees with tips and tricks for using data to surface and craft compelling stories that bring their visions to life.

Couldn't make it live? Don't worry! We live streamed the whole event on Twitter and Periscope (@WeAreSocialAU) and you can read about it on our blog.


Share your thoughts