Facebook F's up with a security breach of over 50 million users
If you've had access to the internet in the past year, you'll know Facebook has been under a lot of scrutiny with concerns over how the platform handles the security of its users' information. Now, it has been revealed that over 50 million users' personal info could be at risk, as hackers on Facebook's computer network exploited a bug in the 'View As' feature on the platform. The feature - best used on bosses, exes, and nosey relatives - enables users to see their profile as someone else would see it simply by typing in that person's name. The bug allowed hackers to access tokens that keep users logged in when they enter their username and password, which the hackers can then use to break into accounts. Mark Zuckerberg has claimed that the network is taking the breach extremely seriously, and officials state the bugs that enabled the hacking have now been fixed. In addition to amending the coding error, they logged some 90 million people out of Facebook and forced them to log back in by typing in their emails and passwords (I was one of those lucky users...). Facebook has been criticised in the past for its slow response to security issues, so Zuckerberg and co. will have to step up if they want to avoid Congress stepping in in the future.
Brands need to accept and embrace multi-screening habits
Facebook has released findings that show viewers are increasingly likely to be paying attention to their mobile phones during TV ad breaks, which means that traditional TV ads are becoming less effective. In other news, the sky is blue...
In case you weren't convinced of that truth before, it's worth noting that Gen Z and millennials are becoming more steadily 'blind' to traditional advertising, and brands will have to become smarter about using social in conjunction with TV shows.
Facebook Messenger bots are getting multiple personalities
Welp, looks like the thing you'd never want in a boyfriend or girlfriend has just become a reality for bots. It's been announced that soon creators of Facebook Messenger bots will be able to add multiple personalities to their creations, so one bot can be used for a number of different functions. Developers of Messenger bots will be able to assign different personalities for different use cases when brands interact with consumers. Facebook's product marketing manager, David Cohen, stated that the platform hopes the update will open up new possibilities for how marketers send non-promotional messages. So how long before the bots need therapy? We'll have to wait and see...
Facebook is launching advertising in Stories 
Stories are showing no sign of slowing down - they're now such a popular feature that Facebook has decided to roll out ads on its Stories platform as more and more brands have embraced vertical ad formats via Instagram Stories. Research by Ipsos showed that 68% of people used Stories "on at least three apps regularly," and 62% of people became more interested in a brand after seeing it in a Story. Would you recommend a Facebook Stories ad buy to your clients? Tweet us @wearesocialau or tell us in the comments!
Facebook rolls out new video ad options
Facebook and YouTube have recently been raising the stakes in a bid to be the video platform of choice. In the latest development, Facebook has announced the rollout of more video ad options with In-Stream Reserve, which will "allow advertisers to reach people watching video from a selection of the most engaging, highest-quality publishers and creators," and ThruPlay, which will "allow advertisers to optimise and pay only for ads that are watched to completion, or for at least 15 seconds."
You can now buy from Amazon using Snapchat's camera
Amazon and Snapchat have teamed up to make shopping even more seamless. Now, thanks to Snapchat, you can simply take a picture with your Snap camera, and, as if by magic, a pop-up will appear showing the item (or similar) on Amazon, where users can then click and buy it. The feature will use Amazon's machine vision tech to recognise artwork, logos, package covers and barcodes to identify items. So if you notice some creep on your morning commute snapping a photo of your chest, he or she may just be trying to buy the shirt off your back!
Snapchat launches e-commerce options for the holiday season
In addition to the Amazon integration, Snapchat's self-serve ad-buying platform is making Shoppable Snap ads available to all advertisers by allowing them to import product catalogues to create ads from already-existing assets, as well as introducing new advanced pixel targeting features. Snap's new features will be of particular interest to brands looking to reach teen audiences, as data shows that the platform has 3.6 million more teen users than Instagram, and nearly 5 million more than Facebook.
Twitter is banning "dehumanising language"
In a continued effort to eradicate hate speech from the platform, Twitter has announced that it will be banning "dehumanising language." While the term sounds somewhat vague, Twitter has defined it as "speech that denies people of human qualities through malicious comparisons to animals or objects," and has stated that research links dehumanising language to real-world violence. Twitter has been taking steps to boost "conversational health" on the platform, including the decision to ban Alex Jones from the site.
LinkedIn gets linked up with Microsoft Office apps
Since acquiring LinkedIn two years ago, Microsoft has slowly been integrating the professional networking platform into its products. The company has now announced plans to tie LinkedIn and Office products together more, as Outlook users will soon be able to co-author documents with LinkedIn contacts in Word, Excel, and PowerPoint. Business corporate directories will also benefit from the integration, as directories will be linked with LinkedIn so that contacts will appear in Outlook for emails and calendar invites.
EasyJet for the Insta generation gives holiday bookings a makeover 
#Wanderlusters, you'll LOVE this - Europe's favourite orange discount airline has just launched (get it? like a plane...) its new Look&Book feature, which allows customers to book holidays by uploading Instagram images into the EasyJet App. Because if you can buy a swimsuit on Instagram, why wouldn't you be able to buy a holiday to wear it on? That effortlessness seems to be the thinking behind EasyJet's effort, which will add a slice of adventure to the typically tedious process of booking a flight. Now, users can simply take a screenshot of their favoured location and upload it into the app, where image-recognition software will use contextual clues to discover the location and find flights for it. As Gen Z-ers and millennials become more and more preoccupied with Insta-worthy holiday destinations, the feature is marketed as a chance for people to "make dreams a reality."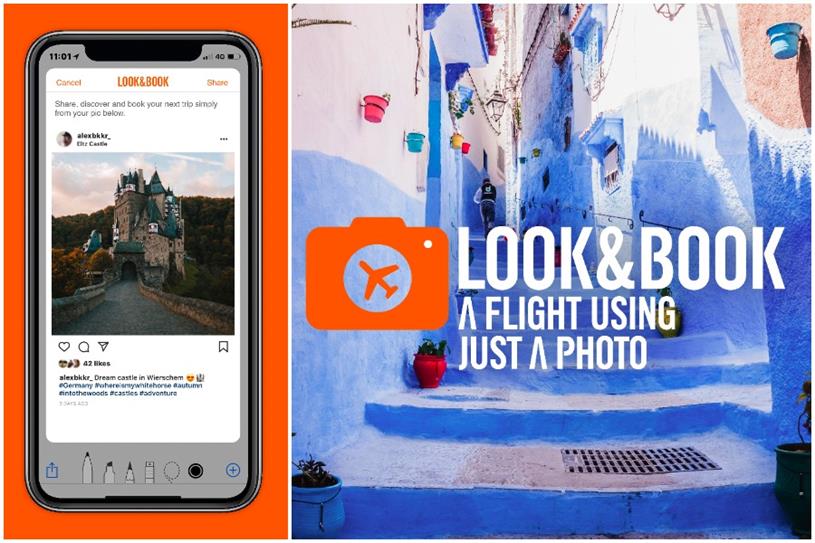 This post courtesy of @mattpearce