Tuesday Tune-Up #471
Facebook removes all news content from Australian platform
In response to a breakdown in ongoing negotiations with the Australian government over a proposed their Media Bargaining Code, Facebook removed all news from its platform in Australia late last week. This means global and local news outlets and publishers can't publish news articles on Facebook, and its 18 million Australian users are unable to share articles from news sites.
At this stage, Facebook's other platforms – Instagram, Whatsapp and Messenger – are unaffected by the change. While Google has struck preemptive deals with several outlets ahead of the introduction of the news media code – which seeks to force Google and Facebook to share a portion of their revenues with news publishers – Facebook's defiance of legislators has attracted enormous criticism from government, news outlets and consumer groups in Australia and on both sides of the Atlantic.
This is partly because Facebook's definition of 'news' is broad and has resulted in the removal of pages from the platform belonging to charities, government and health sites. The government has characterised Facebook's position as 'bullying'. Facebook's view is that the proposed Code fundamentally misunderstands the value exchange between Facebook and publishers. In their words, "publishers willingly choose to post news on Facebook, as it allows them to sell more subscriptions, grow their audiences and increase advertising revenue."
UPDATED 15:15 23/02/21
Treasurer Josh Frydenberg and Communications Minister Paul Fletcher have confirmed that Facebook will walk back its block on Australian news sites.
"The government has been advised by Facebook that it intends to restore Australian news pages in the coming days," a statement from the ministers said. In the statement, Frydenberg and Fletcher said the government would make further amendments to the news media bargaining code.
Facebook said in a statement that it was "pleased" the company was able to reach an agreement with the government.
Platforms pledge to reduce risk of misinformation harming Australians
Another new industry-developed code of practice formulated to limit the spread of misinformation and disinformation on social platforms launched yesterday, with Google, Facebook, Microsoft, Redbubble, TikTok and Twitter all opting-in.
The Australian Code of Practice on Disinformation and Misinformation was developed by The Digital Industry Group (DIGI), and contains voluntary safeguards to protect Australians against harm from online disinformation and misinformation, including range of scalable measures that reduce its spread and visibility.
Under the new code, signatories will be required to develop processes for identifying, reviewing and removing misinformation and disinformation on their platforms. Companies that have signed up to it will be required to publish annual reports on how they are meeting the objectives of the code.
Instagram partners with Mardi Gras
To celebrate Mardi Gras 2021, Instagram has launched a 'Rising Heroes' campaign in partnership with Black Rainbow, Trans Pride Australia, ACON, Twenty10 and Minus18. The campaign includes a new Safe and Strong guide that spotlights the new generation of LGBTQ+ creators and introduces a suite of rainbow-hued features to the platform.
Included in the roll-out is the return of the rainbow hashtag, with over 60 keywords identified in partnership with Mardi Gras and Black Rainbow, including #WeRiseFor and #IndigenousQueer. Using one of these on a story will activate rainbow story ring; furthermore, on the night of the reimagined parade on Saturday March 6th, all Instagram Stories that share a LGBTQ+ hashtag or feature a Pride sticker will feature in a special collective story.
Reddit gets a fresh look
Reddit has had a facelift, including a simplified look for posts in feeds. The informational page from Reddit Premium has been redesigned to reflect new features such as custom application icons, exclusive avatar gear and new art. The platform's Daily Digest Emails now have more information about posts and images, with icons also updated to be clearer and more consistent. Other tweaks have been made, along with bug fixes, all contributing to a more refined Reddit experience.
Facebook will add a new label to some climate change posts
With a deep freeze taking over Texas last week, climate change is front of mind for many Facebook users. Now, the platform will start labelling posts about climate change with a banner that directs people to its information page. For now, the labels will only appear on Facebook posts in the UK but the channel plans to roll them out elsewhere soon.
Facebook Gaming backs community tournaments with prize money
Looking for a way to bulk up your wallet? Facebook Gaming is teaming up with several gaming community partners to hold over 90 community tournaments, providing a $1,000 prize pool for each event. Partners include Community Gaming New York and Real Time Strategies.
Tournaments on Facebook Gaming were rolled out last April as a way to help people stay connected ruing the pandemic. With 90 tournaments beginning from February 20th, this is a sure fire way to keep boredom at bay, with a cash prize raising the stakes. Even better, registration and participation are free.
WhatsApp details what happens if you refuse its new privacy policy
WhatsApp has detailed what will happen to users who don't accept its new privacy policy. Starting May 15th, its functionality will become more limited, with users no longer able to send or read messages from the app. For a limited time, users will still be able to receive calls and notifications, yet this is only expected to last a few weeks. Accounts that haven't accepted the new terms by May 15th won't be deleted, and users will still be able to accept the new privacy policy after this date. However, WhatsApp has cautioned that it generally deletes accounts after they're inactive for 120 days.
Leon Bridges and KAYTRANADA help honour Black music on TikTok
Music continues to be a hit on TikTok, with the platform celebrating Black History Month by spotlighting Black artists who have shaped the past, present, and future of American music. Releasing two new songs for the occasion, Grammy Award winning R&B artist Leon Bridges and producer and artist KAYTRANADA point to an illustrious history of Black music. Both songs will be available first as TikTok sounds, and will be released to DSPs later in the month. The month-long celebration ends with a TikTok LIVE Make Black History Celebration on February 26th, tracing the evolution of California rap in one 90 minute extravaganza.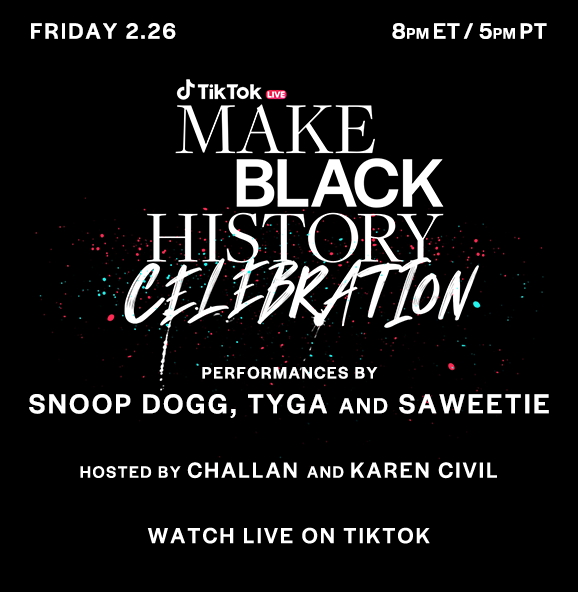 Spotify announces a high-end subscription
At its Stream On event overnight, Spotify announced the imminent launch of Spotify HiFi: a higher quality audio streaming service that will supposedly offer "CD-quality, lossless audio." Pricing and a launch date are yet to be announced, but you can expect it to cost more than Premium. An audience development tool for artists, an audio ad marketplace, a podcast co-hosted by Barack Obama and Bruce Springsteen and a test of paid podcast subscriptions were also announced at the event.
TikTok Fashion Month is back
As the fashion industry continues to search for a balance between phygital activations, runway presentations and digital lookbook drops, TikTok has risen to the challenge of making Fashion Month happen with a whole month celebrating all things style. Through to March 18th, TikTok is inviting fashion houses, creators, celebrities, and its community to bring the excitement of the runway to its platform. With livestreams, hashtags and partnerships with global industry leaders, the platform is aiming to amplify diverse voices in fashion. The grand finale on March 18th will see the month close out with a runway that will feature the latest collections from renowned Black designers Victor Gelamud and Carrots by Anwar Carrots.
Ones to watch
Facebook is testing celebrity video app 'Super' and YouTube TV is adding offline downloads and 4K streaming.
The Tuesday Tune-Up features additional reporting by Hannah Currey.
Share your thoughts