How social can power up the high street
With commerce becoming more social, Editorial Director Angharad Salazar Llewellyn explores how brands can make shopping a more integrated social experience.
Earlier this year, Westfield London launched its TikTok 'For You' House – a collaboration between Europe's premiere entertainment and shopping destination and one of the hottest social platforms on the block. Shoppers were invited to spend a day in the West London mall to see the social app's 'For You' Page recreated as a live experience and meet some of their favourite TikTok creators.
Following an incredibly challenging period for the retail industry, Westfield tapped into an area that surged during the pandemic: social media. TikTok is the first non-Facebook mobile app to surpass 3 billion downloads globally. By collaborating with the platform, Westfield used its pull to attract people back to an in-store experience.
Retail brands are all too aware that there's been a seismic shift in shopper behaviours over the past few years – the acceleration of ecommerce during the pandemic has put added pressure on driving footfall in-store for physical shops. According to our Digital 2021 report, 77 percent of internet users worldwide now say that they buy something online each month. A 36% year-on-year rise in shopping online as stores closed their doors during Covid lockdowns has been coupled with accelerations in social commerce – for example, Facebook's launch of Instagram Shops.
But selling products via social commerce isn't the only way retailers can make the most of the medium. As Westfield and TikTok demonstrated, there's potential for collaboration that harnesses the power of social and digital to drive footfall in store, too.
Shopping is no longer a one medium experience, it's far more holistic. As Meta stated in a 2018 whitepaper, retailers need to connect with shoppers both on mobile and in stores, and it has a suite of tools to help stores do this. Commerce is becoming more social, and the in-store experience more experiential.
The platform put this into practice recently, teaming up with 13 small British businesses who feature on its Shops ecommerce platform to transform their IRL stores. Digitally shoppable window designs each showcased a unique business story, with the platform stating that "these stunning window creations celebrate strong and resilient bricks-and-mortar shops who have used our technology to build their community."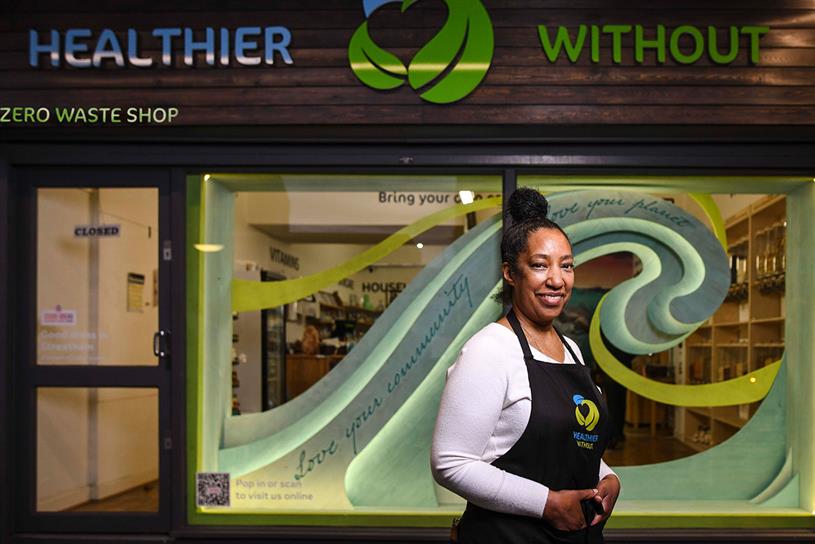 New developments in tech are also fuelling this rapid merging of the social, digital and in-store retail experience. AR technology to enable "try before you buy" is becoming smarter at a rapid pace, helping to supercharge both the in-store and ecommerce experience. Snapchat – a social platform with significant credibility in the AR space – is looking to position itself at the forefront of this.
It recently commissioned a survey, in collaboration with Foresight Factory survey, looking at how offering interactive virtual services would affect a consumers' likelihood to visit a store. It found that 35% of U.S. consumers would make it a point to visit a store where such services were available, such as smart mirrors that let them try on clothes or makeup.
Even AR experimentation at home can help boost a retailers' IRL presence. Think of it as an interactive ad. While AR can give people an idea of how they might look in products, it's no substitute for the real thing. This kind of experimentation is the perfect lead in for attracting people to stores to see how their virtual look translates in real life.
Many people will want to return to browse in bricks and mortar stores. For some – especially shoppers with big budgets – the experience of shopping is part of the pleasure. Recent research by Ve Global suggests that online purchasing isn't all rosy – UK shoppers are increasingly finding it hard to buy what they want online without guidance and expert in-store advice, such as clothing, groceries and cars.
But the lure of digital is strong, particularly for younger audiences, and social platforms are pushing heavily into the world of commerce. By making shopping a more integrated social experience, brands can benefit from the best of both worlds.
---
This article was originally published in New Digital Age.
Share your thoughts