The evolution of brand partnerships in the social age
UK Senior Editor Dan Chirwa discusses how brand partnerships have evolved in the social age.
For years, Leo Messi and Cristiano Ronaldo have traded on pitch records and benchmarks. This summer their moves have set new possibilities for the marketing and commercial returns that are possible in the social space when you make a new signing.
Where association with a megastar still pulls numbers, many brands are realising that there is another way to drive value. Indeed, while the initial noise may be quieter, there's a lasting upside when it comes to achieving perception change by partnering with athletes that stand for things their consumers believe in.
The sports stars of today are social natives. They're increasingly realising the value of building their online profile. Nowadays when looking to form partnerships, brands need to consider an athlete's influencer status as much as their athletic performance.
The Path Toward Purpose
For a while we have been trending towards purpose partnerships built on shared ideals between brand and athlete. It is a trend that has been accelerated by a new generation of athletes allying sporting excellence with a mastery of social media that connects them directly to their audience.
Footballer Marcus Rashford has shown the impact sporting purpose can have. At the age of just 23, he has campaigned against illiteracy, poverty, child hunger and homelessness – raising over £20 million and forcing a government u-turn in the process.
After aligning with education charity Room to Read in 2017, tennis grand slam winner Garbiñe Muguruza's tireless patronage increased in resonance to the point of drawing high profile donations from both the WTA and ATP for International Women's Day 2021.
The list goes on. In 2020, then-Arsenal footballer Héctor Bellerín raised enough money to fund the planting of 58,617 trees supported by his fanbase, with his eco-campaign with One Tree Planted. And rugby's Siya Kolisi is beloved for his outspoken representation against discrimination, adorning billboards over the world having outgrown the exposure of the sport.
Where 'purpose' is the foundation for new partnerships, the past always relied on 'performance'. If the best names were attached to the best brands, then that's where consumers wanted to be. And once upon a time everybody wanted to be like Mike.
The Jordan Standard
The performance partnership benchmark is the tie-up between Michael Jordan and Nike. As a basketball market upstart, Nike signing the rookie was about signalling its arrival and the desire to become number one. It gained the cache of aligning with a new kind of player determined to not only change the culture of his Bulls team but dominate a league.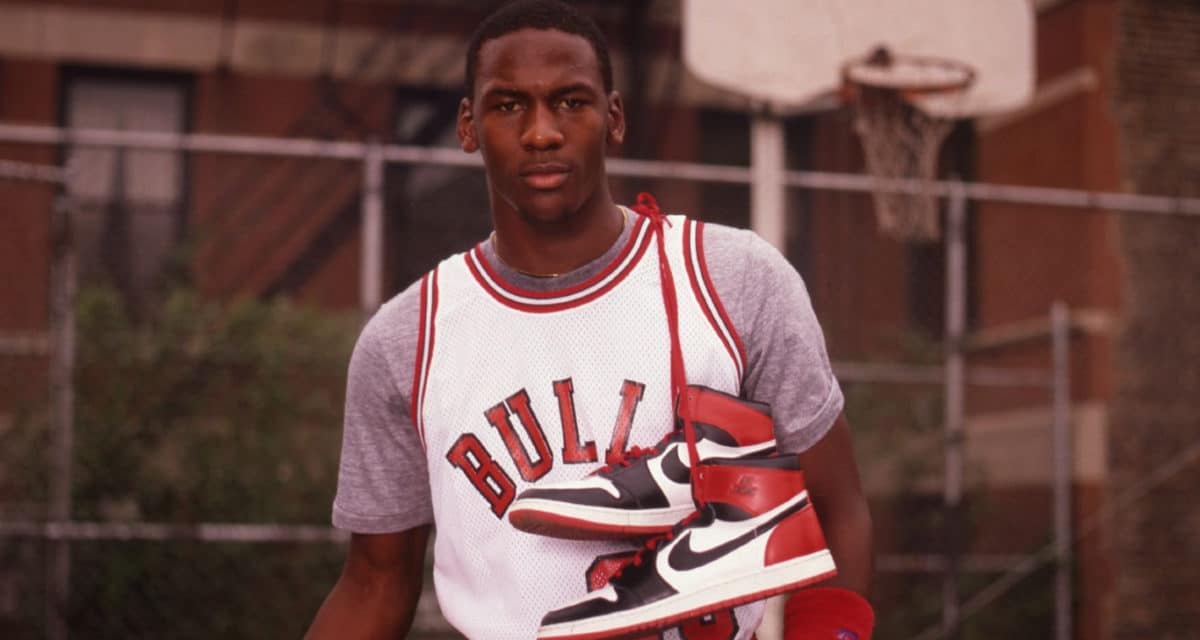 The power of the partnership saw MJ's on-court ability drive the brand to the market lead. The compelling power of Jordan's off-court persona – intertwined with the mythos of his unbeaten finals record – established the Jordan brand for good.
Jordan has become such a force as a brand that it is able to lend its weight to other brands looking to punch above their weight. PSG are football's nouveau riche having only been established in 1970. The success of the tie-up has allowed the club to gain a cultural equivalency with football's legacy superpowers, in lieu of a commercial one.
In the last few years, both Jordan and Messi have helped PSG leverage on-field relevance into global off-field resonance.
Performance vs Celebrity
There is a middle ground. Some athlete partnerships can work on the basis that they will have no bearing on the on-field performance. These relationships need to be built on awareness, accessing new audiences, or lighting a brand in the reflected cultural glow of a partner.
Eyebrows were raised last year when J. Cole signed a professional basketball contract with the Rwanda Patriots but on deeper inspection it made perfect sense. On the rapper's side, he had just released a tenuously basketball-themed album. For the Patriots, they were playing their inaugural season in the newly launched Basketball Africa League – co-founded by the NBA. American eyes were drawn both out of curiosity and support of an introspective, vocally pro-Black musician who has starred in NBA Celebrity All Star games and led him to top trending lists worldwide.
Other influencer partnerships also sit in the divide. These include collabs which usually give a short-term viral shot in the arm but at best can go on to define a marketing genre (a nod of the head to Pogba x Stormzy). Longer term builds like the relationship between Ian Wright and adidas also fit here; adidas is reaping the benefits of sincerely cultivating a partnership with a former player who has grown into an off-field figurehead for multiple communities.
What it means for the future
Since forever, athletes have been used to sell things. But now brands can legitimately create social and cultural legacies with athletes with ease. And they should – consumers have shown that they will be rewarded for it.
The numbers behind this new generation of stars show the value of the potential audiences on offer for the right timely partnership. Shock 18-year-old US Open winner Emma Raducanu doubled her follower count to 1.4 million and boasted a quite frankly ridiculous Instagram engagement rate of 38% in just two days during the climax of her Championship run.
We know that tapping into engaged fanbases is the key. Tom Daley used his following to raise money for The Brain Tumour Charity through his love of knitting. Runner Nikki Hiltz and LGBTQ+ non-binary icon raised over $42,000 for The Trevor Project.
Stars of the highest wattage such as Messi and Ronaldo will always bring eyes – that is undeniable. However, it is likely we are coming to the end of the days of the ill-considered billboard partnership with no substance beneath it. With more and more athletes using their platform to promote causes they believe in, it is logical for brands to prioritise these partnerships and make consumers of their ready-made, engaged fans.
Partner brief? The new generation of athletes are creating the brief. Brands should be thankful.
---
This article was originally published in Sport Industry.
Share your thoughts