Tuesday Tune-Up #502
Facebook, Instagram and WhatsApp restored after global outage
Facebook experienced one of the worst outages in its history on Tuesday morning, leaving users around the world unable to access its platforms, including Instagram and WhatsApp, for several hours. Facebook has not yet provided a full explanation of what the caused the outage, but experts said the problem appeared to have been related to the company's internal infrastructure.
Facebook whistleblower goes public
Frances Haugen, a data scientist who worked in Facebook's Civic Integrity department, came forward as the whistleblower who leaked a cache of internal documents that have caused Facebook's worst crisis since the Cambridge Analytica scandal. Haugen was interviewed on 60 Minutes in the US about sharing private Facebook research with The Wall Street Journal which showed that the platform knowingly amplifies hate and misinformation, and how Facebook is "substantially worse" than any other platform she's worked at before including Google and Pinterest.
Haugen also discussed the most damaging document leak, which showed Facebook was aware of the damage Instagram was causing to teen mental health and wellbeing. One survey in the leaked research estimated that 30% of teenage girls felt Instagram made dissatisfaction with their body worse.
Haugen has been called to testify before Congress on Wednesday about the studies and other information she has gleaned from her time at Facebook.
To the huge community of people and businesses around the world who depend on us: we're sorry. We've been working hard to restore access to our apps and services and are happy to report they are coming back online now. Thank you for bearing with us.

— Facebook (@Facebook) October 4, 2021
TikTok unveils new tools for brands at TikTok World
TikTok celebrated reaching the milestone of 1 billion monthly users last week. Days after marketers flocked to TikTok World, the platform's business showcase event, to see what the app has in store for the future. New features include a new Creative Centre, which brands can use to explore a showcase of the top-performing ad and view details on the latest platform trends. Collections ads will enable brands to include product cards in their in-feed promotions and Dynamic Showcase Ads will allow brands to automatically promote their products, with ads aligned to specific user preferences and interests.
Facebook is spending $50 million to 'responsibly' build the metaverse
The metaverse is becoming a more significant part of our vocabulary and social platforms have started to take notice. Facebook has announced a $50 million fund called the 'XR Programs and Research Fund' that will be used to responsibly build the metaverse over the course of two years. Facebook says the fund's goal is to make sure it builds its part of the metaverse with an eye towards compatibility with other services, as well as inclusivity, privacy, safety and economic opportunity. Right now, Facebook's biggest metaverse program is a platform called Horizon, which exists as a beta Oculus app that lets people have VR meetings.
Facebook Messenger unveils new features
Messenger has released a whole host of new features, including cross-app group chats which means that users will be able to start group chats among Instagram and Messenger contacts. Other additions include polls in Instagram DMs, as well as a group typing feature to group DMs. These updates make the group chat experience more streamlined across both Instagram and Messenger, meaning less swapping from one app to another.
Clubhouse lets users record conversations
Want to make your Clubhouse conversations available to listen to over and over again? Well now you can, with the platform introducing 'replays,' which allows creators and moderators the ability to record their chats. Users will also be able to share 30-second clips with others (permissions allowing), giving people a sneak peek into the type of juicy content that a conversation contains. The app is also gaining a search feature, so people can type a keyword or name and receive the rooms, people, clubs and bios that match.
TikTok gets into NFTs
Non-Fungible Tokens have caused quite the stir this year and now TikTok is getting in on the action with 'TikTok Top Moments.' The platform is partnering with select creators and celebrities, like artists Lil Nas X and Grimes, to release a collection of NFTs. Each is inspired by 'culturally significant' TikTok videos in the form of one-of-one NFTs. The drop starts on October 6th with Lil Nas X's collaboration with artist Rudy Willingham, with more releases occurring throughout the month. TikTok won't take any of the profits made, with proceeds going straight to the creators and NFT artists involved.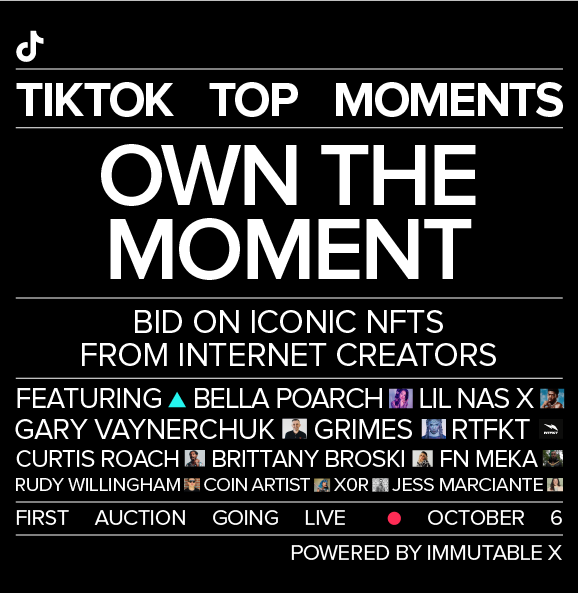 Instagram Reels are now widely available on Facebook in US
Instagram Reels is getting a major push, with the feature now available on Facebook in the US. Creators can now make Reels on the platform, extending their exposure across two social media channels. A Reels Play bonus program has also been announced, inviting certain creators to get paid based on the performance of their reels.
YouTube to remove misinformation videos about all vaccines
As the world gets jabbed, platforms are cracking down on vaccine misinformation. YouTube has decided to remove videos that spread misinformation about all vaccines to prevent misleading content and vaccine hesitancy. The channel will take down any content that contains misinformation such as claiming any approved vaccine is dangerous, causes chronic health defects or does not reduce spread of disease. In the last year, the platform has already taken down 130,000 pieces of content centred on Covid vaccine misinformation.
Twitch announces new safety tools
Twitch is going further in the fight against harassment on the platform. Phone verification chat controls will allow streamers to require a viewer to have a verified phone number in order to chat. The channel is also tweaking the existing email verification settings to give creators greater control over who gets to chat. Users will be able to set email or phone verification requirements for accounts that fall under certain age limits or following lengths. This hopes to limit hate raids as bots are unlikely to have phone numbers tied to their accounts.
Pinterest announces Second Annual Pinterest Creators Festival
Pinterest will hold its second annual global Creators Festival on Wednesday, October 20th. The hour-long live streamed events will unveil the latest creator experience, features and products. Topics to be covered include growing an inspired audience, launching a brand and monetising content. The event will be hosted virtually in countries including Australia, Canada, France, Germany, the UK and the US, and is set to be an insightful event for those wishing to create meaningful engagement with their communities.
Ones to watch
Twitch is testing a new function that allows users to pay to promote a stream. It's essentially a paid version of the "Boost this stream" community challenge program, and will have two tiers with two different prices.
The Tuesday Tune-Up features additional reporting by Hannah Currey.