We Are Social's Monday Mashup #522
Donald Trump is kicked off social media platforms
Farewell, Tweeting Trump. Following riots in the Capitol, the US President was permanently suspended from Twitter "due to the risk of further incitement of violence." Other channels have responded similarly, with Reddit banning the subreddit group "r/Donald Trump," Twitch and Snapchat disabling Trump's channel, Shopify taking down two online stores affiliated with the President and Facebook and Instagram banning Trump from posting on his account for at least the next two weeks. YouTube is accelerating its enforcement of election misinformation and voter fraud claims against Trump, whilst TikTok is redirecting hashtags like #stormthecapitol and #patriotparty to its community guidelines. Discord has banned server The Donald and Pinterest has been limiting hashtags related to pro-Trump topics. With less than two weeks left of his presidency, Trump's social media voice has effectively been silenced.
TikTok releases its first AR filter
It's 2021! To celebrate, TikTok have released its first AR effect that uses the iPhone 12 Pro's LiDAR sensor for an enhanced confetti effect that realistically settles on people or objects in your room. Bridging the digital and physical worlds, the first instalment of this effect promises to become more complex and innovative, adding another feature to TikTok's bag of tricks. This follows in the footsteps of Snapchat – major players when it comes to AR filters, having already added support for Apple's LiDAR sensor back in October. Augmented reality filters are looking set to become a staple for social media channels that want to stay ahead of the game.
Facebook pages are being redesigned
Likes are a thing of the past with Facebook's Pages redesign, instead laying focus on Followers as a more direct measurement of how many people a Page is currently reaching. Other updates will consist of a new look-and-feel, updated navigation and the introduction of a News Feed. A new Q&A format allows Pages to better interact and engage with fans, a handy tool for businesses that want to answer common questions in a fun way that allows their following to get to know them better. This is somewhat influenced by the similar format seen on Instagram, where creators take questions from fans and answer them in Stories. These updates demonstrate how Facebook is making its platform better for brands and businesses, adding tools and insights that can help users identify areas of growth and engagement.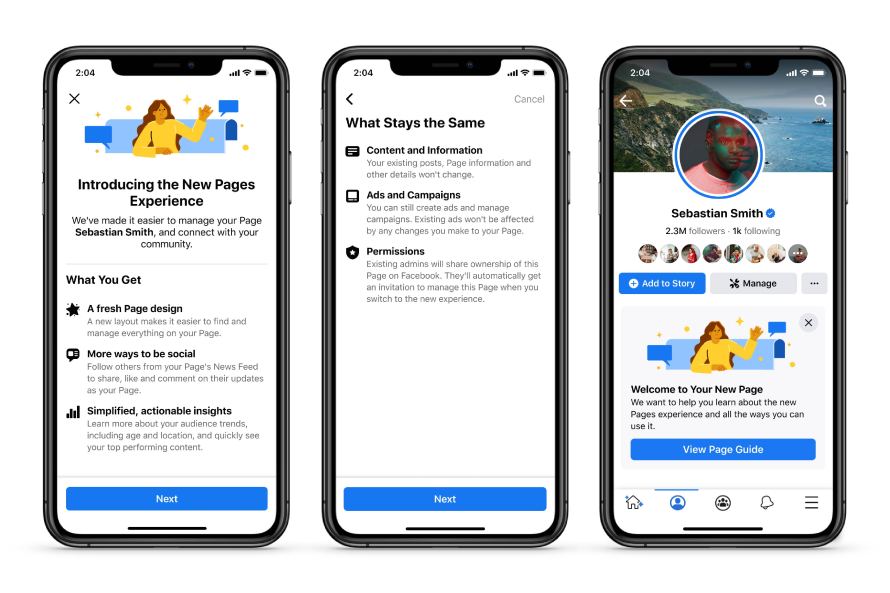 Parler is removed from Apple and Google's App Store
Following Trump's ban from Twitter, small conservative social media platform Parler took the top spot on Apple's app store. A network that mimics Twitter, the app saw a 281% increase in installs. However, Parler's time at the top was short lived, with both Google and Apple delisting the platform after it failed to adequately moderate content on its app. The channel was one of the apps used to organise Wednesday's insurrection in Washington D.C. and is known to be an unmoderated hotbed of misinformation and hate speech. In an email to Parler, Apple's App Review Board told the app's developers that "Parler has not upheld its commitment to moderate and remove harmful or dangerous content encouraging violence and illegal activity."
David Bowie lands on TikTok
There's a starman waiting… on TikTok!? To celebrate what would have been Bowie's 74th birthday, TikTok has made his music catalogue available to fans across the platform. His TikTok channel @DavidBowie features iconic videos from his life and work across over five decades of innovation and reinvention. To mark his passing five years ago, the app has launched #TheStarman challenge, encouraging the TikTok community to recreate his iconic looks across the years. Now where did I put my eye patch?
TikTok hosts encore performance of the Ratatouille musical
Some people spent 2020 making bread, others came together on TikTok to create a musical based on the 2007 Disney/Pixar animation, Ratatouille. Composers, fans, set designers, costumers and choreographers created musical numbers for the fictional show, which has since been produced by Seaview Productions in association with TikTok. The first show debuted online on New Year's Day and raised more than $1 million for The Actors Fund. Following its success, an encore performance was held on Sunday evening, with the New York Times calling it a "silly, multilayered delight."
Twitch will change the face of PogChamp every 24 hours
Twitch's global hype emote had a temporary hiatus last week, after the person on which it was based – Ryan "Gootecks" Gutierrez – posted some tweets encouraging more mob violence after the riot at the Capitol. Previously, anytime anything cool happened on Twitch, you could be sure to see people pogging in the chat. Mourning the death of PogChamp? Put away those tissues because Twitch has announced that it will cycle through different versions of the emote every 24 hours. A clever move from the platform to create a buzz whilst removing themselves from the reputation as an ESPN for gamers.
Share your thoughts