We Are Social's Monday Mashup #528
Facebook restricts Australian users from sharing or viewing news links
Facebook has announced that it will be restricting users in Australia from sharing or viewing news links to the platform. The move follows the debate on proposed legislation from the Australian government that seeks to push internet platforms to pay news publishers directly for access to share their content. Just four percent of the posts on the Facebook News Feed are news, the company claims, and says the legislation 'fundamentally misunderstands' its relationship with publishers. It'll be interesting to see how this plays out and the resulting reaction in the coming weeks.
Reddit gets a fresh look
Reddit has had a facelift, with changes having been rolled out from February 2nd through to the 16th. So what's new? A simplified look for posts in feeds freshens things up and the informational page from Reddit Premium has been redesigned to reflect new features such as custom application icons, exclusive avatar gear and new art. The platform's Daily Digest Emails now have more information about posts and images, with icons also updated to be clearer and more consistent. Other tweaks have been made, along with bug fixes, all contributing to a more refined Reddit experience.
iPhone reveals more than 200 new emojis
Emoji lovers rejoice! More than 200 new emojis will arrive on iPhones with the release of the next operating system update. Been wondering how you'll celebrate getting your COVID-19 vaccine? Look no further. The update includes a vaccine-ready syringe emoji, as well as the ability to select a man or woman with a beard. The largest change however, is to how users can represent themselves as a couple. Until now, only People Holding Hands has come with skin tone options, but now the same ability has come to the other loved-up emojis. With lots of us glued to our screens during lockdown, we're here for these new emojis that will give our messages a bit more mojo in the months to come.
Facebook will add a new label to some UK Climate Change posts
With a deep freeze taking over Texas last week, Climate Change is on the mind, with many taking to Facebook to lay down their version of the truth. Now the platform will start labelling posts about climate change with a banner that directs people to its information page. From activists to deniers, there's plenty of opinions floating about on Facebook, with the platform using this latest move in an attempt to root out the fiction in favour of facts. For now, the labels will only appear on Facebook posts in the UK but the channel plans to roll them out elsewhere soon.
Facebook Gaming backs community tournaments with prize money
Looking for a way to bulk up your wallet? Facebook Gaming is teaming up with several gaming community partners to hold over 90 community tournaments, providing a $1,000 prize pool for each event. Partners include Community Gaming New York and Real Time Strategies. Tournaments on Facebook Gaming were rolled out last April as a way to help people stay connected ruing the pandemic. With 90 tournaments beginning from February 20th, this is a sure fire way to keep boredom at bay, with a cash prize raising the stakes. Even better, registration and participation are free.
WhatsApp details what happens if you refuse its new privacy policy
The countdown has begun. WhatsApp has detailed what will happen to users who don't accept its new privacy policy. Starting May 15th, its functionality will become more limited, with users no longer able to send or read messages from the app. For a limited time, users will still be able to receive calls and notifications, yet this is only expected to last a few weeks. Accounts that haven't accepted the new terms by May 15th won't be deleted, and users will still be able to accept the new privacy policy after this date. However, WhatsApp has cautioned that it generally deletes accounts after they're inactive for 120 days. To WhatsApp or not to WhatsApp? That is the question.
Leon Bridges and KAYTRANADA help honour Black music on TikTok
Music continues to be a hit on TikTok, with the platform celebrating Black History Month by spotlighting Black artists who have shaped the past, present, and future of American music. Releasing two new songs for the occasion, Grammy Award winning R&B artist Leon Bridges and producer and artist KAYTRANADA point to an illustrious history of Black music. Both songs will be available first as TikTok sounds, and will be released to DSPs later in the month. The month-long celebration ends with a TikTok LIVE Make Black History Celebration on the 26th of February, tracing the evolution of California rap in one 90 minute extravaganza. Pass my headphones, I'm ready to dive in.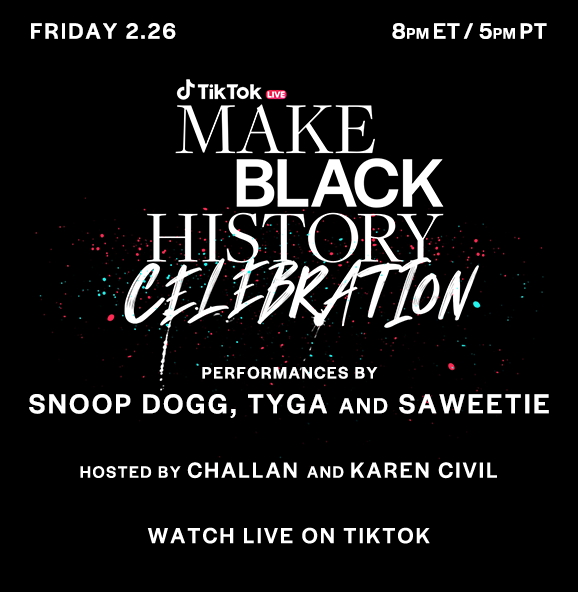 TikTok Fashion Month is back
Calling all fashionistas, TikTok is here to fill that fashion week hole in your life with Fashion Month. That's right, a whole month celebrating all things style. Through to March 18th, TikTok is inviting fashion houses, creators, celebrities, and its community to bring the excitement of the runway to its platform. With LIVE streams, hashtags and partnerships with global industry leaders, the platform is aiming to amplify diverse voices in fashion. The grand finale on March 18th will see the month close out with a runway that will feature the latest collections from renowned Black designers Victor Gelamud and Carrots by Anwar Carrots. I don't know about you, but we're ready to strike a pose.
Ones to watch
Facebook is testing celebrity video app 'Super' and YouTube TV is adding offline downloads and 4K streaming.
Share your thoughts